Peritoneal-pericardial diaphragmatic hernia (PPDH) is a congenital condition whereby the normal anatomic separation between the pericardium and peritoneal cavity fails to form in-utero. This abnormal communication between the aforementioned cavities can result in a shift of abdominal contents into the pericardial space.

Case 1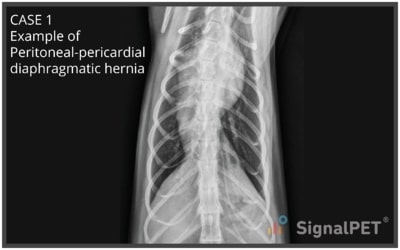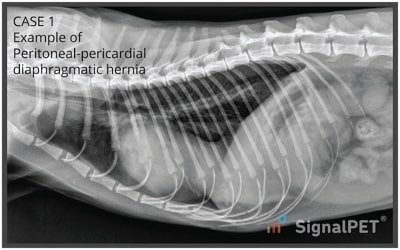 PPDH is the most frequently observed congenital abnormality in feline and canine patients. Peritoneal-pericardial diaphragmatic hernias may be found alone or in conjunction with other congenital findings including sternal abnormalities, umbilical hernias, and ventricular septal defects. This is frequently an incidental finding discovered during radiographic, CT or ultrasonographic imaging.
Case 2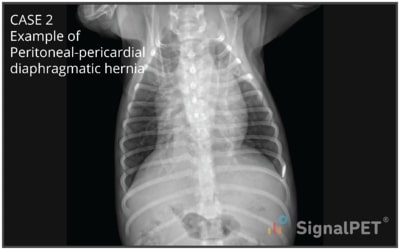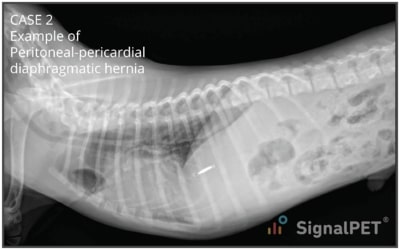 Many patients do not exhibit clinical signs. In patients with clinical signs, the severity depends on which abdominal organs have migrated and on how much the vascular supply and function of each organ has diminished. Clinical signs may range from that of gastrointestinal (e.g. vomiting, diarrhea, etc) to respiratory and rarely patients may exhibit signs of cardiac failure or tamponade.
Treatment for clinical cases of PPDH is surgical intervention. Prognosis is generally good with surgical correction.
References
Burns, CG, Bergh, MS and McLoughlin, MA. Surgical and nonsurgical treatment of peritoneopericardial diaphragmatic hernia in dogs and cats: 58 cases (1999-2008). J Am Vet Med Assoc. 2013 Mar 1;242(5):643-50
Farrow, Charles S. Veterinary Diagnostic Imaging: The Dog and Cat, Volume I. Mosby, 2003. P. 478
Sisson, David. Pericardial Disease: Diagnosis and Management. WSAVA Conference Proceedings, 2002.