The festive season is a wonderful time to relax with family and friends, both two and four legged. But it can be a scary time for both pet owners and veterinarian teams alike, as foreign bodies are the most common medical emergency linked to this season.
In an effort to make this chaotic-season fun, SignalPET decided to host a competition where veterinary teams were encouraged to submit their interesting foreign body cases, along with their findings; and stand a chance to win a $250 Amazon Gift Card.
After reviewing several interesting cases, it is with great pleasure to announce the 2021 Your Patient Ate What?! Winner as Christina Edinger from West Loop Animal Hospital!
*Herewith her case study and findings:
"Mischief" (patient name changed for confidentiality reasons), a 4 year old Labradoodle presented to Christina's team/hospital with lethargy and acute onset vomiting. Along with clinical findings (beyond the scope of this blog) and Mischief's "acquired-taste" for socks in the past, a strong clinical suspicion of a gastric/small intestinal obstruction was held.
A survey radiograph was subsequently taken and confirmed the tentative diagnosis.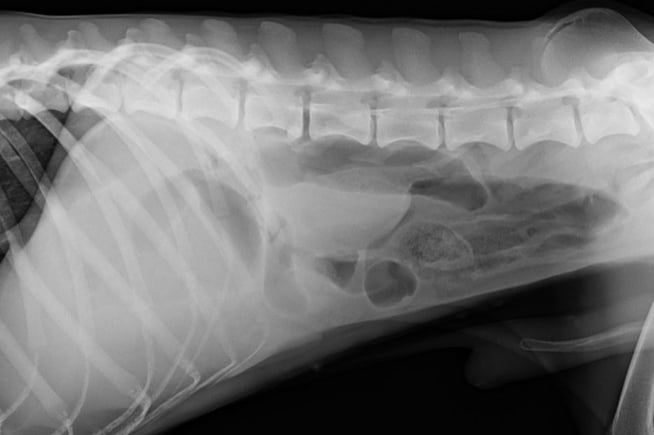 The right lateral view that was obtained at presentation: The size of the stomach was judged to be at the upper limit of normal containing fluid and gas. There are multiple small intestinal segments that are abnormally distended (the configuration and positioning of the loops suggest that they cannot all be colon). There is furthermore questionable material in the distal segments.
Although only one lateral abdominal view was taken during this study, SignalPET strongly advises that at least 2 orthogonal abdominal views are taken during the abdominal workup (usually right laterals and ventrodorsal views), with some institutions choosing three views (left and right lateral views, in addition to the ventrodorsal view). This may increase diagnostic accuracy, since positional change shifts the fluid and gas into different areas. During left lateral projections, the nondependent pylorus and duodenum are highlighted by gas that rises and fills their lumen, enhancing visualization of their contents. This proves valuable when evaluating for foreign material within the pylorus, pyloric masses and small intestinal linear foreign bodies, since postprandial gastritis ingesta normally shouldnt remain in the nondependent pylorus on a left lateral. Often the plication associated with linear foreign bodies can be inconspicuous and the intestines can also measure within normal limits. Therefore, visualizing material in the pylorus of a patient with GI signs, should alert the clinician of a possible plication.
The SignalRAY report suggested a strong confidence of two populations of small intestines and small intestinal material.

Along with supportive clinical findings, it was decided to perform an exploratory laparotomy as a mechanical obstruction was the most likely cause.
Surgery was performed and a foreign body in the proximal jejunum was found. The foreign body was found to be a stuffed toy/ornament (see picture).
Ironically, the owners had no idea where it came from!
We are happy to report that Mischief has recovered well from surgery and we wish him a speedy recovery!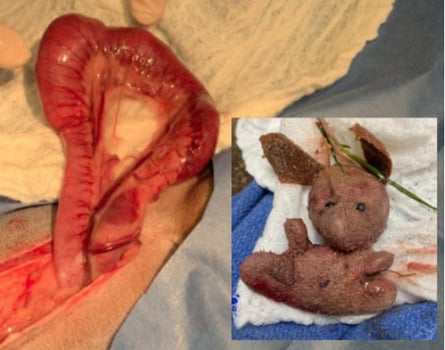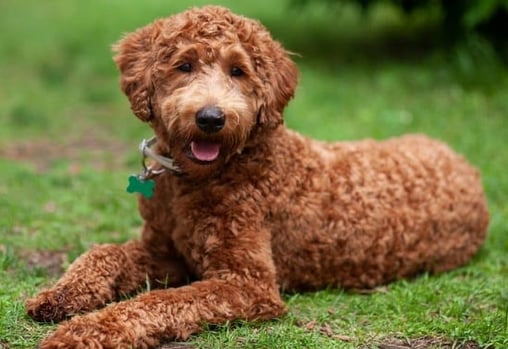 Radiographic diagnosis of mechanical obstruction can often be challenging because of the superimposition of normal structures in addition to the lack of inherent contrast in the abdomen.
In our upcoming blog, Radiography Tips for Diagnosing Obstructive Foreign Bodies, we'll be focusing on the detection of foreign bodies and provide a few helpful tips to improve detection and diagnosis of mechanical ileus. To get notified about our upcoming blog posts, make sure to subscribe to our newsletter!
SignalPET would like to thank all the veterinarian teams for all their dedication and hard work during the festive period.
We wish you and your families a healthy and happy 2022!