Receive Radiology Results
Instantly
Schedule a short demo to learn how SignalPET can give your practice real-time, affordable radiology test results in minutes.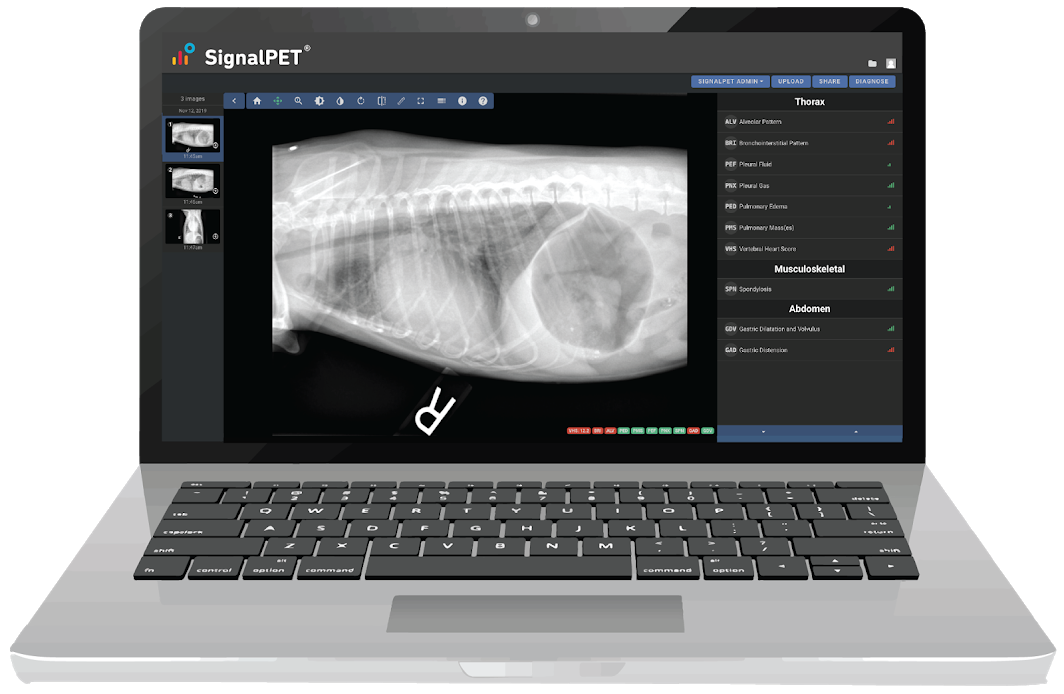 All radiographs are reviewed by SignalRAY.
Whenever you take a new radiographic study at your clinic, your images are automatically submitted to SignalRAY's AI.

Receive radiology test results in 10 minutes or less, on every study.
Your clinicians will receive radiographic results with an analysis of SignalRAY's findings. It truly is a Second Set of Eyes.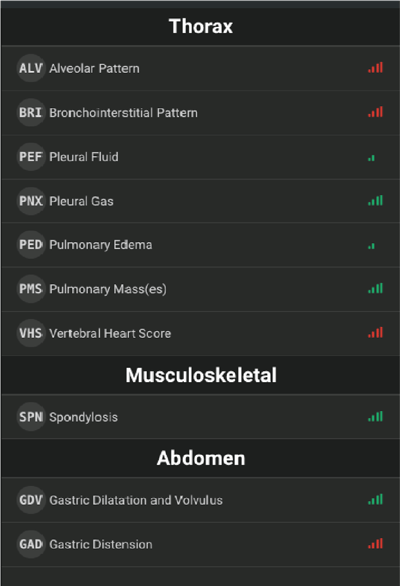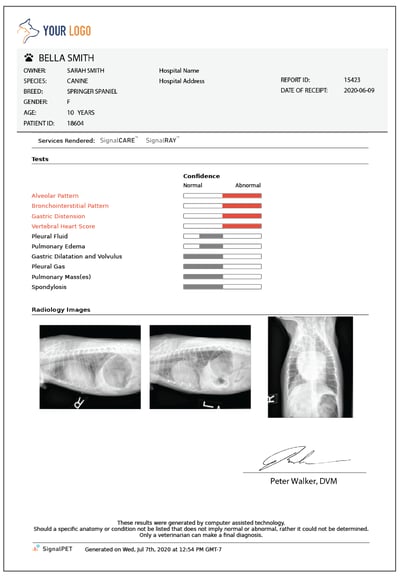 Provide your client with instant & visual radiology reports.
Empower your team with client reports in one-click. Improve client communication, drive client compliance and start offering transparent radiology reports.

Why practicing veterinarians should adopt advanced Veterinary AI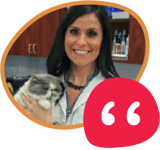 "All the veterinarians and staff really, really liked it and we were really pleased with the ease of the software and the recording system. We found that it added incredible value for our radiology services. Our patients are able to get care faster, and our clients were really pleased to see all the good things. So, it's just been a great journey for us, and we really, really enjoy using SignalPET."
— Dr. Kerry Peterson
Medical Director, Pet Wellness Clinics

Instant Results
Get proven radiographic test results instantly, while the client is still in the exam room.

$14.99 / Study
Leverage high-end technology at affordable prices for a second set of eyes at the point of care.

24/7 Availability
Day or night, SignalPET is always available to support you in increasing accessibility and quality of care medicine.
SignalRAY Test Panels
SignalRAY provides 50+ radiographic test results instantly on every study.
Thorax Panels
CARDIAC PANEL
Vertebral Heart Score
Left Atrial Enlargement

EXTRAPULMONARY PANEL
Esophageal Distention
Esophageal Foreign Body
Pleural Gas
Pleural Fluid

PULMONARY PANEL
Cranioventral Parenchymal Pattern
Caudodorsal Parenchymal Pattern
Diffuse Parenchymal Pattern
Bronchial Pattern
Thoracic Mass(es)
Abdomen Panels
GASTROINTESTINAL PANEL
Gastric Distension
Gastric Material
Gastric Dilatation and Volvulus
Small Intestinal Foreign Material
Small Intestinal Plication
Two Populations of Small Intestine

EXTRAGASTROINTESTINAL PANEL
Hepatomegaly
Mid Abdominal Mass
Splenomegaly
Peritoneal Fluid

UROGENITAL PANEL
Renal Mineralization
Renomegaly
Small Kidney
Urinary Bladder Calculi
Uterine Distention
Urethral Calculi
Visible Prostate
Prostatic Mineralization
Skeleton Panels
SKULL AND SPINE PANEL
Cervical Disc Space Narrowing
Spondylosis
Thoracolumbar Disc Space Narrowing

FORELIMB PANEL
Appendicular Fracture
Aggressive Bone Lesion
Shoulder Arthropathy
Elbow Periarticular Osteophytosis
Third Phalanx Bone Loss

PELVIS PANEL
Pelvic Fracture(s)
Hip Luxation
Hip Osteoarthritis

HINDLIMB PANEL
Appendicular Fracture
Aggressive Bone Lesion
Stifle Periarticular Osteophytosis
Stifle Effusion
Third Phalanx Bone Loss